Eight Steps to Connected Parenting Audio Program
Wondering Why Your Kids Won't Listen?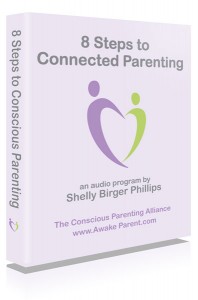 Find out how you can improve connection, communication and cooperation NOW by using Shelly's eight steps to connected parenting.  You'll be amazed at what a difference the simple steps in this audio program can make in your life with children.   Increase your children's self-esteem and help them contribute graciously to your family.
For more information, click here…
Perspectives on Feelings Audio Program
Tired of Tantrums?
What your kids really want when they act out, throw tantrums and misbehave.
Shelly and Jill reveal nine conscious parenting approaches you can start using today
Audio program includes workbook, transcript and coaching e-mails.
For more information, click here…